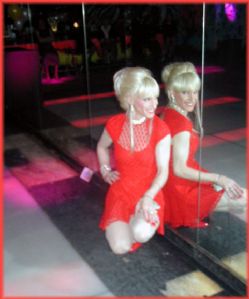 MEMBER PHOTO GALLERY
Frantastique Has No Photo Gallery
LIFESTYLE FETISHES
Anal Sex
Cock & Ball Teasing
Crossdressing
Cum Play
Degradation
Dildos/Vibrators
Domination/Submission
Facials
Feminization
Foot Fetish
Gangbangs
Golden Showers
High Heels
Kissing
Lingerie
Master/Slave
Masturbation
Oral Sex
Panty Fetish
Pantyhose/Stockings
Rimming
Role Playing
Shemales
Sissification
Spanking/Paddling
Strap-Ons
Transexuals
Transgenders
Transsexuals
Transvestites

TG Marilyn Monroe Impersonator and all around Fun Girl!
STANDARD MEMBER
I AM A: 47 year old Transvestite, Shemale, Transgender, Transexual from Washington, DC
SEEKING: Long Term Relationship
WITH A: Transgender, Escort, Transexual,
Active during the past 3 days
ABOUT ME
I have a passion for fashion and feminine beauty, being with friends and meeting new friends! My favorite pastimes are parties, nightclubbing, restaurants, theater, movies, photo shoots, and impersonating MARILYN MONROE! I'm also interested in other celebrity impersonations (I've been Paris Hilton-- fun, but not as fun as Marilyn!) and working on various stage presentations. I've never been married, but I dream of falling in love with, and being extremely loyal to a very special, dominant gg lady who understands, appreicates, and embraces the tg lifestyle.
MY IDEAL PERSON
I'm interested in meeting fun, interesting, and creative people, especially those involved in celebrity impersonations, drag shows, or any other aspect of theatrical productions and show business in general.
PERSONAL INFORMATION
| | | |
| --- | --- | --- |
| Gender: | Transvestite, Shemale, Transgender, Transexual | |
| Sexual Orientation: | Bi-sexual | |
| Height: | 5 feet 10 inches | |
| Weight: | 141 to 150 lbs | |
| Race: | Caucasian | |
| Body Type: | Slim/Petite | |
| Hair Color: | Blond | |
| Hair Length: | Long | |
| Body Hair: | Little | |
| Facial Hair: | None | |
| Eye Color: | Brown | |
| Eye Correction: | | |
| Body Decorations: | Prefer Not To Say | |
| Smoking Habits: | I Smoke Only When I'm Drinking | |
| Drinking Habits: | I Drink Socially | |
| Drug Habits: | I Do Not Do Illegal Drugs | |
| Marital Status: | Single | |
| Occupation: | Prefer Not To Say | |
| Education: | BS/BA Degree | |
| Political Views: | Prefer Not To Say | |
| Religion: | Prefer Not To Say | |
| Endowment: | Prefer Not To Say | |
| Circumcised: | n/a | |
| Cup Size: | n/a | |
| Role Type: | Submissive | |